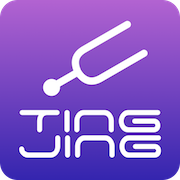 PhraseTuner
---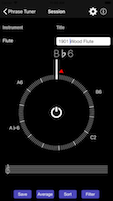 ---
Click to install:

---
Phrase Tuner is a tuner with a memory! It listens to your instrument and saves your intonation data for analysis. This is a great way to track your tuning while playing musical excerpts. Multi-instrumentalists will appreciate the features to categorize your data by instrument, timestamp and a customizable title. Intonation data can be analyzed, in music notation, by viewing notes, averaged, sorted and filtered.
The main table provides a sorted list of Phrase Tuner sessions listed by instrument, timestamp and title. This list can be edited using the standard gestures provided by iOS. Click the plus (+) sign to add a new session. Click "Edit" to delete sessions.
The session view lets you start/stop the tuner, visualize and save your intonation data. Click the power button (in the center of the tuner dial) to activate the tuner. Click the Save button to store your intonation data. Click "Average" to view averaged intonation data. Click "Sort" to view average intonation data, sorted by distance. Click "Filter" to sort but only show intonation data that exceeds the tuning limit specified in the app's settings.
Phrase Tuner is available on iOS devices, such as iPhone and iPad.